All Inventory
PJ L6 102X20 MED DUDY , 10K ,DECK OVER KNEE RAMPS
Stock #: 17864
83X12 SINGLE AXLE BLACK, BI-FOLD GATE
Stock #: 18057
BEST PRICE WITH CHECK OR FINANCE $7795.00 24' C8 2-8KS , MONSTER RAMPS
Stock #: 17275
BEST PRICE WITH CHECK AND FINANCE $5595.00 7X16 , 7K , HERC, SILVER , SIDE AND RAMP DOOR , SIDE VENT , 86"
Stock #: 17893
BEST PRICE WITH CHECK OR FINANCE $7795.00 H4 20' , 16K , 2-8K OIL AXLES , LR G, DRIVE OVER FENDERS , 31X66 RAMPS MOUNT , LID
Stock #: 16967
BEST PRICE WITH CHECK OR FINANCE $6295.00 8.5X20 CHALLENGER , 7K WHITE
Stock #: 17953
83X12 RBT SINGLE AXLE, BLACK , TRACTOR GATE
Stock #: 18056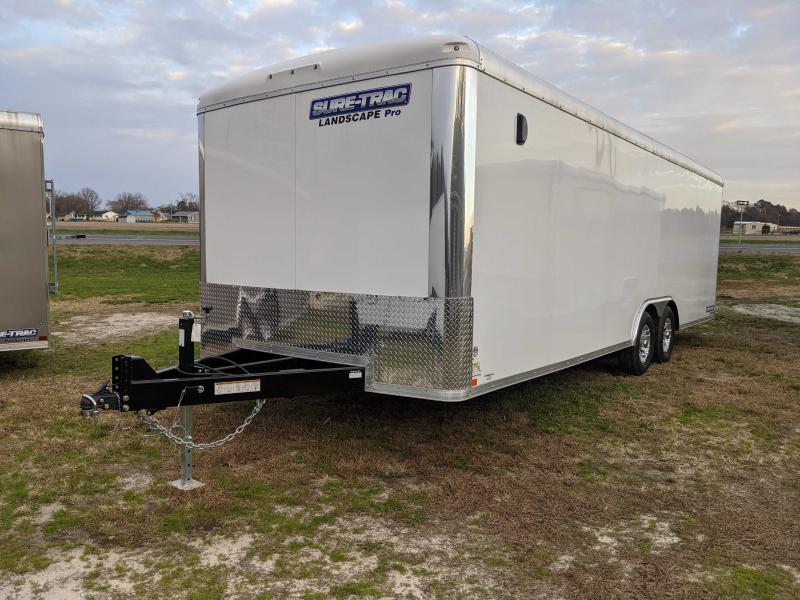 BEST PRICE WITH CHECK OR FINANCE $11695.00 A design that has been proven by the leaders in the landscaping industry, The Landscape Pro Round Top Cargo trailer is the proven choice by landscaping professionals. It is what you can't see that separates Sure-Trac from the competition....
Stock #: 18012
BEST PRICE WITH CHECK OR FINANCE $9095.00 PRO SERIES ROUND TOP CAR HAULER Transport your equipment and toys in style with features like aluminum wheels, bright front corners and rear hoop, and screwless exterior. The Pro Series Round Top Car Hauler is built with a tube frame, tongue, walls, and roof bows, one-piece aluminum roof, and features a vapor barrier to protect your trailer from moisture penetration and electrolysis. ...
Stock #: 17838
UNIVERSAL RAMP IMPLEMENT Featuring Universal Full Width Ramps, the Sure-Trac Universal Ramp Implement makes loading and unloading equipment more convenient, versatile, and safer. This trailer is equipped with a heavy-duty (7K) set-back jack, adjustable 2-5/16 coupler and HD Slipper Spring suspension. Available in 15+3 (14K) and 17+3 (14K), this trailer is configured to handle the job. ...
Stock #: 17741
BEST PRICE WITH CHECK OR FINANACE $3795.00 6' x 12' single axle V-Nose Red Rear White Front, .030 aluminum skin, 6'6" inside height 16"o/c Walls Floor and Ceiling, Thermaply headliner, Silver rims, Tie backs
Stock #: 17501
Get a Quote
Please enter your contact information and one of our representatives will get back to you with more information.
Click to Call
Please enter your name and phone number to get calling options.